why Training is essential in every part of a project execution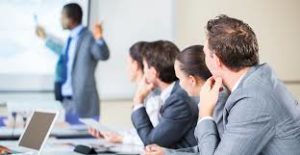 pics:  : KM training stangarfield www.sites.google.com
Training or imparting necessary information is always a critical component of Projects.
the training in a project environment has generally these components:
a. identify the need of specific area of training
b. identify the appropriate audience
c.device a solid methodology of imparting training
d.feedback to ensure effectiveness
When we implement a project in maximum time we are bringing some important changes in our business .It may call for new SOP to be followed, may need to unlearn certain area of work and more important may have need of enhancing specific skill set.
In case of all these episodes there is a need of knowledge sharing. And the knowledge sharing may be in different methods.It may be one time classroom training, may be on the job training where we need to hand hold the operators and sometimes creation of appropriate documents and sharing over a large period of time.
The successful training program will ensure a combination of all above methods will be taken up and followed with occasional audit to ensure that the training fundamental are embedded in user mind.
some hurdles we find regarding preparation of training document as that is the most difficult one and resource driven. Many software program which are capable of recoding of video image of daily work may be used and all the more better if these documents are made by the user themselves.
in one of the projects where I was responsible for commissioning of a cement plant automation system ,it was necessary for our team to organise  round the clock training program for all operators and this became quite useful as we could cover each one of them.
the second hurdle we face is the reluctance of line managers for releasing the people for training. and this needs to be solved by participation of senior management. Quite often during project initiation phase a scheduled fund and time can be budgeted for this training to avoid confusion later.
Training & Skill development is a subject which can be a method of wonderful employee engagement and therefore it is advisable to follow this meticulously for over all growth  of the company.