We strongly believe that the best way for retention of a loyal employee to provide him adequate training .Investing in Skill Development has also been identified as sure short method of Cost Control . With this in mind that'sIT  has designed different training program for both Senior Management & Working group so that they can benefit from the courses. Our Courses are carefully designed by experienced Industry experts .We also deliver training either in class room or on job location as needed. We are also partnered with few training organisation .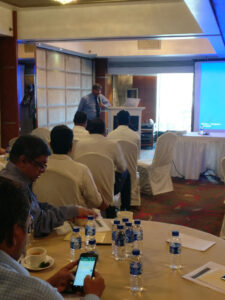 Some of the Courses we deliver are:
IIoT Training for Senior management: 4  Hour Session designed as per convenience of Sr Management with objective of providing over view of different IoT Techniques ,Case Study and know how of how to select ,design the project and manage them as well.
Cyber Security Training for Senior Management:

   Cyber Security is a subject which is important and critical  for   management  . Management is required to maintain the Confidentiality Integrity and Availability of Data at all times . Also management has responsibility of ensuring that the Company Infrastructure is not used for any activity which is not in the ambit of Information Technology Act 2000.Considering this that'sIT provides a comprehensive training course for Sr Management which will help them understand the key issues and plan mitigation. 

Artificial Intelligence for Senior  Management :
AI/ML is going to change the industry completely .But in reality many of our process are still not AI ready and therefore try to resolve issues in conventional ways. This Class room based training program of 4 Hrs will make you aware of
Over View of AI /ML
Introduction to Neural Network
Case studies with AI
Guidance to AI project Management
4. Specific Training program as needed by Customer:
We also participate in  Induction Training for our Organisation where in we deliver the IT & Automation portion .For this we collaborate with customer and study their existing IT & Automation System. Then design a course material which is suitable for the new joiners
We are also organising Generic Training on SAP ,MES,Automation ,IT Infrastructure,IT Security ,IT Audit etc.